When you think of your dream kitchen, what do you picture? Beautiful cabinets and backsplash probably come to mind. Perhaps you imagine a kitchen island or granite counters. These elements are all important, but have you stopped to consider the impact of kitchen flooring?
Too often, flooring is an afterthought. Such lack of consideration can be problematic in any space, but it's particularly concerning in the kitchen environment.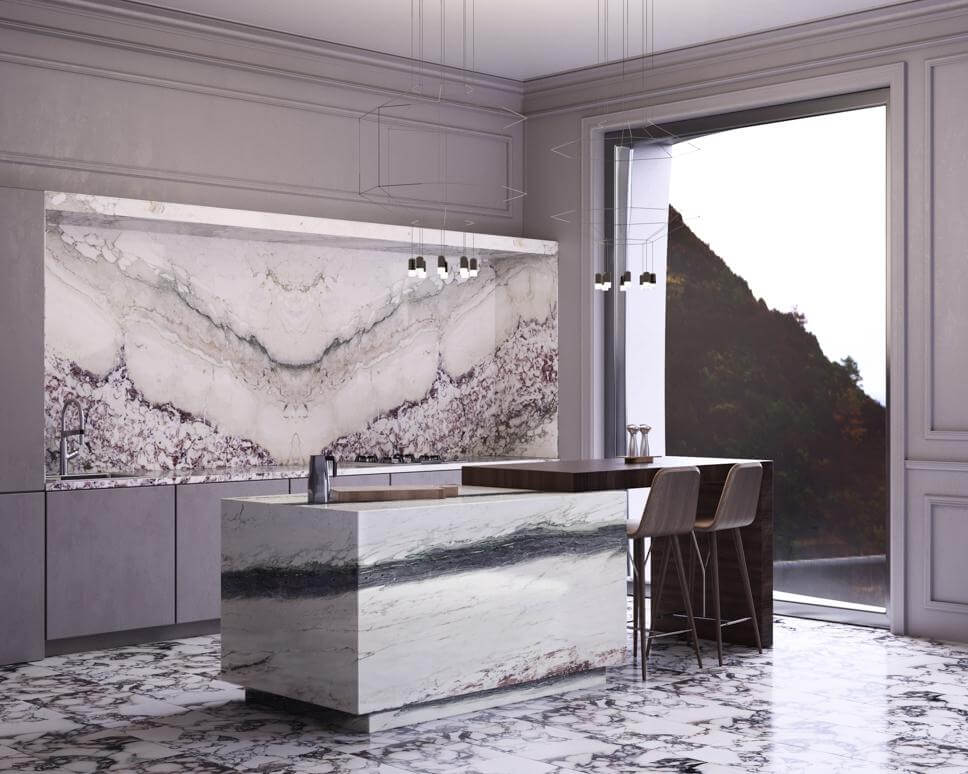 Breccia Capraia
Not only can the right type of flooring tie your entire kitchen together, it can make your life easier by limiting the need for cleaning and general tile maintenance. After all, kitchens are nearly always high-traffic spaces, so flooring is vulnerable to wear and tear.
With so much to think about, it's tough to know where to start. To help, we've highlighted the most important kitchen flooring considerations:
Material Types
Kitchen trends come and go, but ideally, the flooring style you select will be durable and classic enough to stand the test of time. Tile is always a wise choice, as it can handle a lot of use but is also lovely to look at. Numerous tile options are available, but we strongly recommend porcelain, ceramic, or natural stone.
Examples of beautiful, yet practical kitchen tiles abound, but we're especially fond of Belgian Bluestone. This deep hue adds drama and a dynamic backdrop for cabinets, both which will instantly elevate a kitchen's aesthetic.
Colors and Patterns
Typically, designers have the most fun with a kitchen or bar backsplash, where they can experiment with daring colors and patterns. While we always appreciate bold backsplashes, it's also possible to make a statement with kitchen flooring.
The key lies in finding a look that stands out but will also remain appealing in years to come. This isn't an easy balance to strike, but when such a lofty goal is accomplished, the result is impressive. Possibly your aesthetic lies with neutral geometric patterns, which add unexpected flair without making your kitchen look too busy.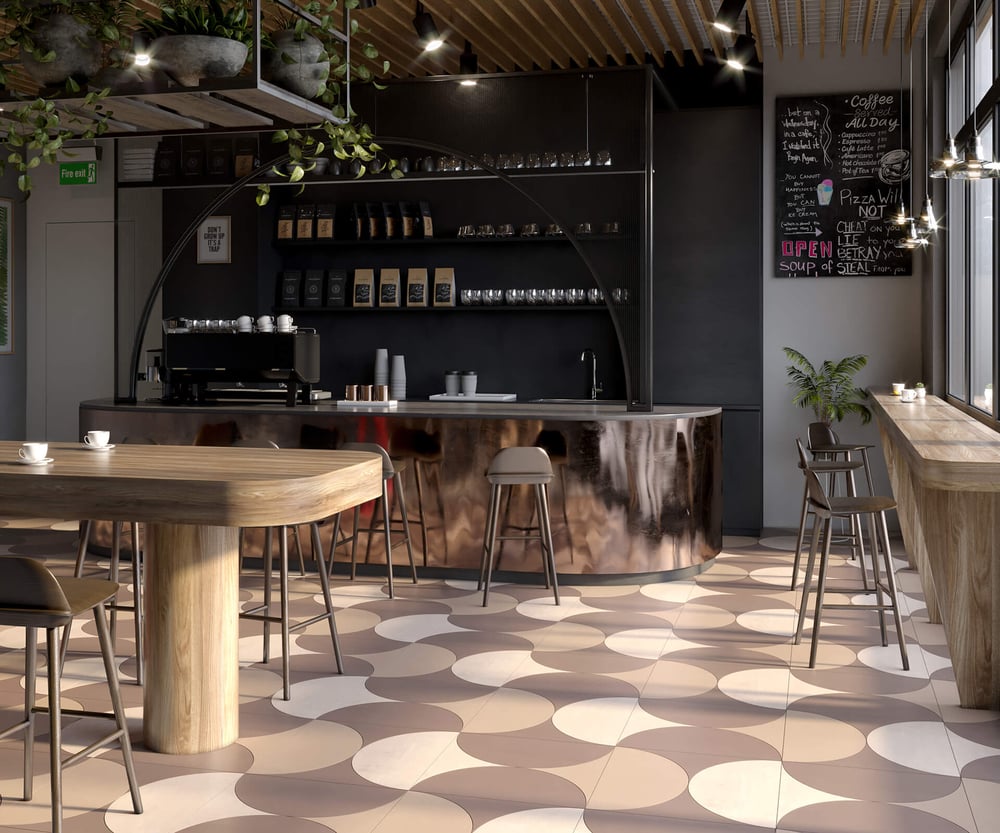 Mosa Core Collection Terra
The Core Collection from Mosa serves as the perfect example of a flooring style that works well in a contemporary kitchen. Offering a range of neutral colors, the collection shifts the focus to texture and shape. Its innovative geometric designs are bound to attract attention, but they should also fit easily into the overarching look of your kitchen project.
Texture
Texture is currently one of the hottest concepts in tile design. It can bring a slightly distressed look to your kitchen while also adding much-needed dimension. With flooring, texture also serves a functional purpose: it reduces the potential for slipping.
Lately, we've observed porcelain tile designs that resemble natural stone. Terre d'Orcia Saturnia, for example, provides a rustic look reminiscent of styles from Tuscany's Terre d'Orcia region.
If you're willing to invest in natural stone, you can't go wrong with antiqued or reclaimed limestone for your kitchen flooring. We adore Vieux Monde limestone which blends French limestones in unique finishes. These tiles manage to achieve the patina look that is typically only possible after generations of use.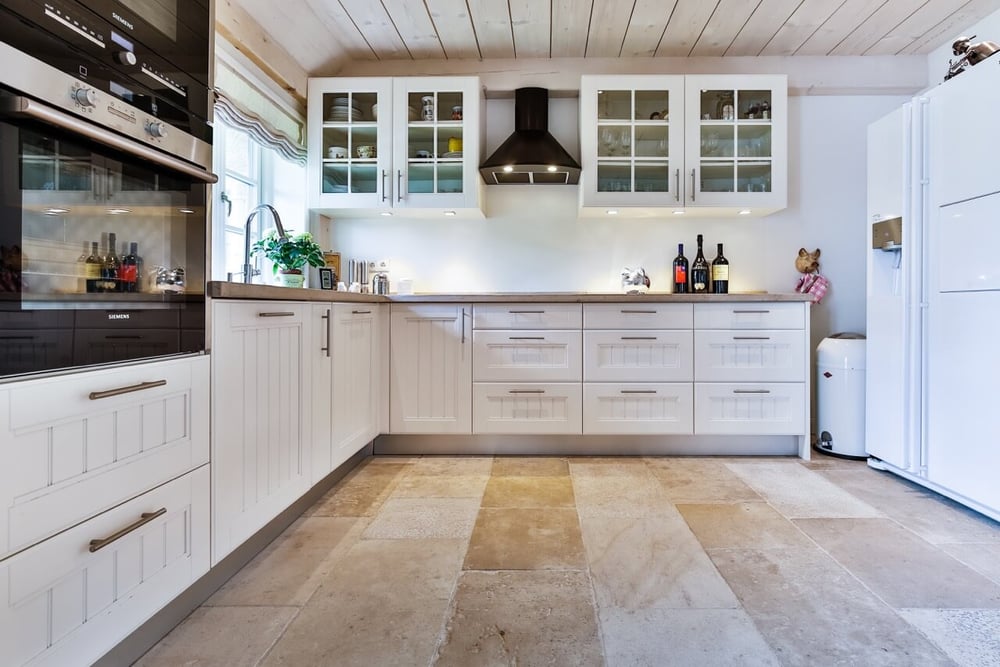 Vieux Monde
Maintenance
How much time are you willing to invest to keep your kitchen in pristine shape? If, like many homeowners, the answer is "not much," tile maintenance should be your chief consideration. When in doubt, stick with scratch-resistant products. Low porosity is also important.
Don't forget the role of grout color in maintaining a picture-perfect kitchen. Light grout can be gorgeous, but it tends to draw attention to stains.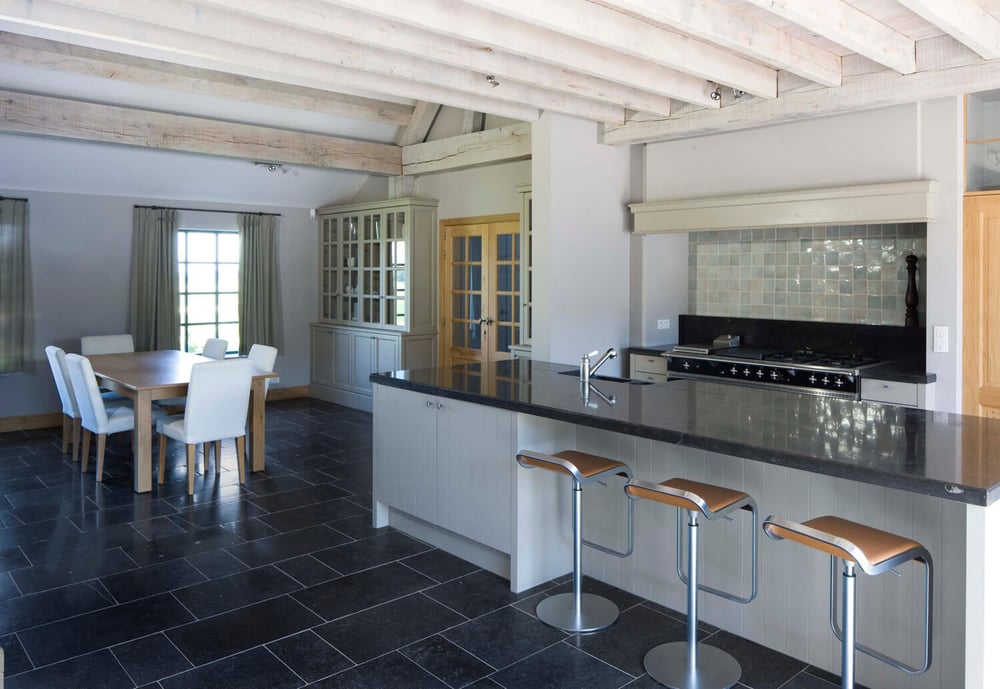 Midnight Bluestone
Dark tiles such as Midnight Bluestone can be highly forgiving when you're too busy to clean. This classic Belgian limestone has an upscale appearance, but its honed finish and dark tone keep your kitchen looking neat.
No matter your kitchen flooring preferences, you'll be pleased with the range of options we offer at Decorative Materials. To learn more about the latest breakthroughs in tile, check out our webinar, featuring our 2021 Tile Forecast. If you'd like to visit our showrooms, call or contact us online to make an appointment.