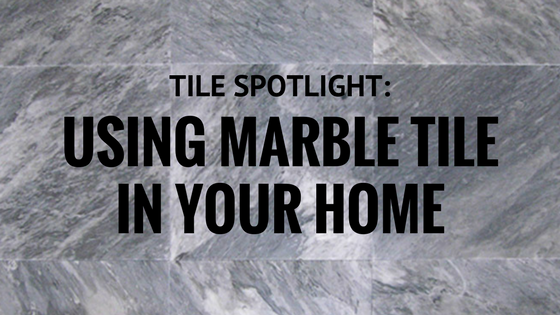 Design trends come and go, but there are some that remain classic and timeless. Marble is a perfect example, as it's a long-lasting material that never seems to go out of style. Marble tile is particularly popular with homeowners who want to update their bathrooms and kitchens.
But marble is not just for residential use. Luxury resorts often use marble to showcase the play of light as visitors enter the entry, or to add a touch of resplendence to a bathroom.
Let's take a closer look at the beauty of elegant marble tiles and their many uses.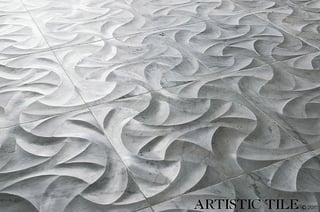 Marble has been used to build and decorate buildings for thousands of years. The beautiful vein design of marble makes each slab and piece of marble unique. Depending on which variety you purchase for your home, the color palette may vary. Marble tile always gives an elegant, classic look.. Plus, adding marble tile is a great way to update an old space without being too risky when it comes to design choices.
If you still don't know how to combine marble details with your existing home design, here are some great ideas for using marble in your own home.
Marble Is Not Just for Countertops
Partially due to the popularity of the Taj Mahal, many people think of marble as only suitable for adorning a palace floor or walls. But just the right amount of marble can be good for achieving a contemporary look as well. That is why marble has become a desirable decorating material in modern and traditional homes.
You can also achieve an elegant and polished look in your bathroom by using marble to update the flooring. A marble tiled bathroom can give even plain a bathroom tidy and elegant look. The simplicity of using the same marble throughout a bathroom in a variety of sizes creates a classic space.
When choosing the perfect tile for your bathroom, remember that marble is a soft natural stone, so it can be easily etched and scratched. To avoid wear and tear, and retain its elegant shine for as long as possible, use non-abrasive and non-acidic cleaners when caring for your tiles.
Kitchen Applications for Marble Tiling
Another great space to use marble is your kitchen. Marble tiling is great for kitchen backsplashes, because a vertical surface doesn't get the same wear and tear as a horizontal surface.
What is a wall corner? If you do decide to install marble flooring in your kitchen, be sure to seal it annually and wipe up spills immediately, to avoiding staining your tile. As the kitchen is one area of your home that gets a lot of use and where there are substances like oil, fruit juice, and so on that can easily stain the marble, your tile needs extra care.
Marble Tiles for Your Master Bath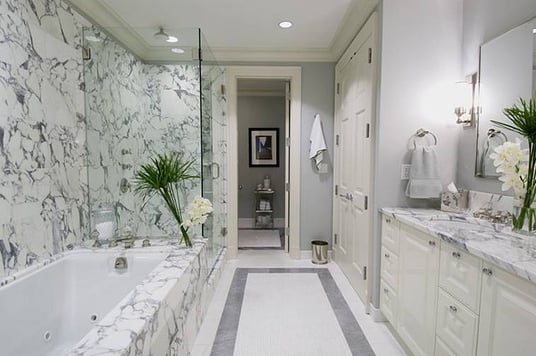 Your master bathroom should feel elegant, welcoming and certainly luxurious. That's why marble is an obvious choice for many homeowners when it comes to bathroom tile. Marble has an inherently rich quality and adds an elegant, well-appointed touch to a master bathroom.
The beauty of marble is that is available in a vast array of colors as well as a significant variety of veining, from wispy to heavy patterning. Each stone has a unique impact.
Where Not to Use Marble in Your Home
There are specific places you shouldn't overdo on the marble effect in your home. Veined marble, for example, although beautiful, can also cause a space to look very busy and stand out. So if there are parts of your home where you would rather create a neutral decor, avoid marble altogether.
In addition, if you already have a marble kitchen backsplash or marble wall in the kitchen, avoid choosing marble for the flooring as well, as too much marble may overwhelm the decor.
Marble is an elegant and classic tile material. If you have questions on how to select tile for other spaces in your home, we have an array of articles that may interest you. See, for example, 5 Areas to Use Porcelain Tile or Hot Tile Picks: 15 Kitchen Backsplashes You Will Love.
Explore our inspiration gallery and contact us today if you have any questions.